By Kalen Patrick
Yesterday we analyzed what the 49ers may be looking at doing this offseason with the Offense. Today we will take a look at the Defense. Oddly enough, the 49ers defense which for years has clearly been superior to the Offense, faces more serious questions than the Offense. We will now take a look at the issues surrounding the 49ers Defense.
What to do with the secondary? Especially at Safety with Goldson and Whitner.
Aldon Smith playing too many snaps last season? Has the NFL "figured" him out?
Will Justin Smith come back 100%?
Is Patrick Willis overrated?
Secondary
In the Superbowl there is no question that the secondary was a major weakness that the Ravens exploited. Chris Culliver had the worst game of his career and was continuously picked on and beaten badly. I really do like Culliver's potential but perhaps he is not going to be the player we all hoped he would. Maybe I am being too critical, after all he is only a 2nd year player, and he had a rough week in the media leading up to the game (which was his own doing). I'd like to see him mature and really step up some more.
Carlos Rogers seems to get a bad rap among 49er fans but I think he played pretty solid this year. He is a good #3 CB despite being paid more like a #1 or #2 CB. I wonder if Vic Fangio and the 49ers will explore putting Rogers back on the outside instead of covering the slot receiver. In 2011, Rogers had his best year as a pro. Anquan Boldin made some incredible catches in the Superbowl despite very good coverage by Rogers. Tarrell Brown is another very good CB and I think he is definitely worth keeping long term.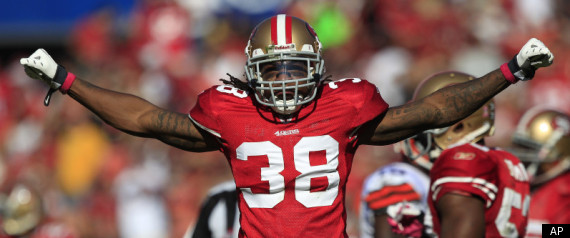 BRINGING BACK DASHON GOLDSON SHOULD BE A TOP PRIORITY FOR THE 49ERS
I feel Dashon Goldson is a player the 49ers must hold on to. Goldson makes plays with Interceptions, Forces Fumbles, makes big hits, is very durable, and his tackling has improved greatly. I think he should be priority #1 this offseason. As for Donte Whitner, if we can keep him at a very reduced salary I would do that, I like him as a vocal leader and in run support. However, I would like to see the 49ers draft a Safety in either rounds 1 or 2 and hopefully get playing time immediately.
Front 7
Moving away from the Secondary and focusing on the Front 7, I wonder if the NFL has figured out ways to seriously slow down Aldon Smith. I never realized how dependent Aldon was on Justin Smith until we saw how he played without the "Cowboy" beside him. Even with the return of Justin Smith in the Playoffs, Aldon just didn't look the same. I wonder if either the NFL has figured him out, or perhaps he is playing too many snaps? Maybe with fatigue and playing more in run support he loses that burst as the season goes on and on. Hopefully the return of Parys Haralson and if 2nd year man Darius Fleming can spell Aldon and keep him fresh and retain his explosiveness.
BOWMAN AND WILLIS FORM THE CORE OF A STRONG 49ERS DEFENSE
Justin Smith should and I believe will come back healthy as ever, my bigger concern than his Triceps would be his age. He has been very durable, that also means he has played a lot of snaps and I hope this first injury won't be a sign of things to come. Ricky Jean-Francois has done an admirable job when given the opportunity, but he is not the long term answer there. I wonder if the 49ers will focus on draft Justin Smith's replacement in round 1 or 2 this year? I sure hope there is a plan in place. The 49ers defensive performance dropped significantly when Justin Smith was out.
NaVorro Bowman is better than Patrick Willis. There I said it. I look forward to the back lash but I firmly believe this. Patrick Willis was incredible the first 3 years of his career, since then however I am far from impressed. Now don't get me wrong, he still plays at a very high level, but the expectations for Patrick Willis are sky high and he has not lived up to them as of late. I suspect NFL offenses have looked at ways to neutralize Patrick Willis, but the truly great players, especially at Inside LB, find ways to make plays all the time. He is a great player, but will not come even close to the all time great ILB's such as Ray Lewis and Mike Singletary. The 49ers are blessed to have two great ILB's in Willis and Bowman. I can't imagine many offenses running well against the 49ers consistently over the next 5 years.
The 49ers Defensive unit as a whole is very solid, but I would like to see Baalke focus on adding some more talent here early in the draft. Depending on the value available, I think going Safety in Round 1 and D-Line in round 2, or vice-versa would be the best way to go.
Coming in the next few days I will focus on the Alex Smith situation and finish up my "A Look Ahead" series with a close look at Special Teams. Until next time.
Over and Out.